Help Me Plan My KiteSurf Trip

Ready to embark on an unforgettable KiteSurfing adventure in Dakhla? Look no further! Our team of expert instructors is here to provide you with the ultimate learning experience. Feel the excitement as you choose from our range of options: join our lively and dynamic KiteSurf Group Lessons, where you'll bond with fellow enthusiasts; opt for our intimate and personalized KiteSurf Semi-Private Lessons, where you'll receive focused attention in a small group; or indulge in the luxury of our exclusive KiteSurf Private Lessons, where you'll receive one-on-one coaching tailored to your unique needs. Whether you're a beginner taking your first steps or a seasoned pro looking to take your skills to new heights, our dedicated instructors are passionate about guiding you on an exhilarating journey across the waves. Don't wait any longer! Secure your spot now and get ready to dive into the thrilling world of KiteSurfing in the breathtaking landscapes of Dakhla.

Kitesurf Camp Dakhla which includes accommodation at: Kitesurf Camp – Bungalows / Hotel / Apartment.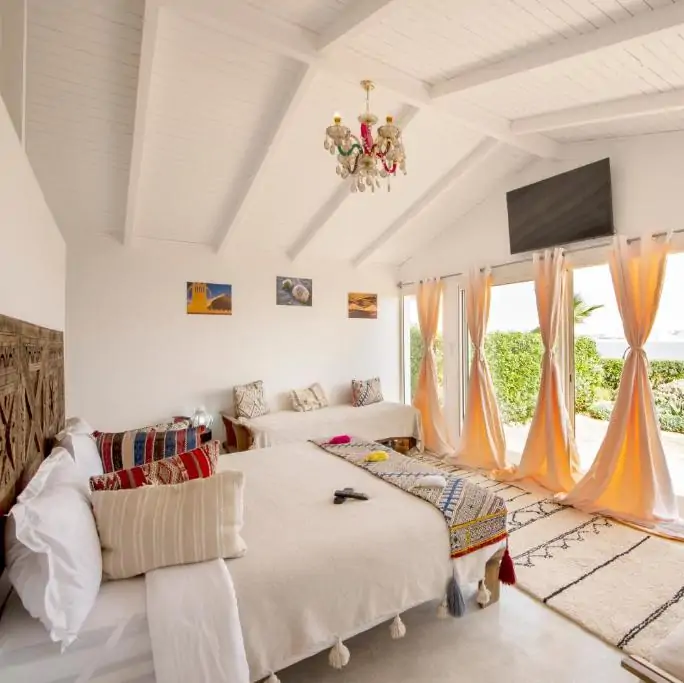 Kitesurf lessons are offered by certified and multilingual instructors – whether for beginners, intermediates or any other special courses.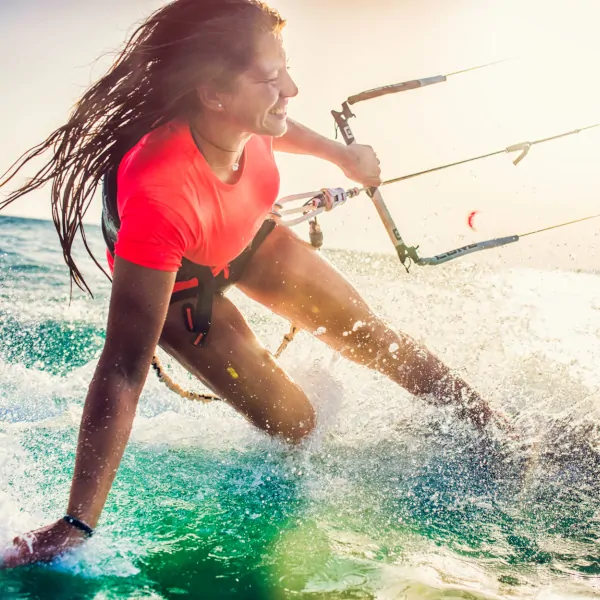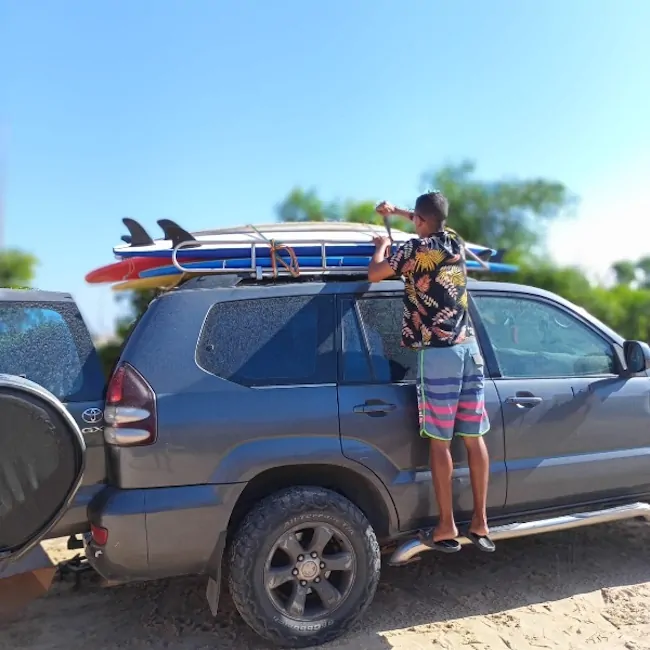 We plan several trips a season to help expand each kiteboarder's maximum kiteboarding progression potential.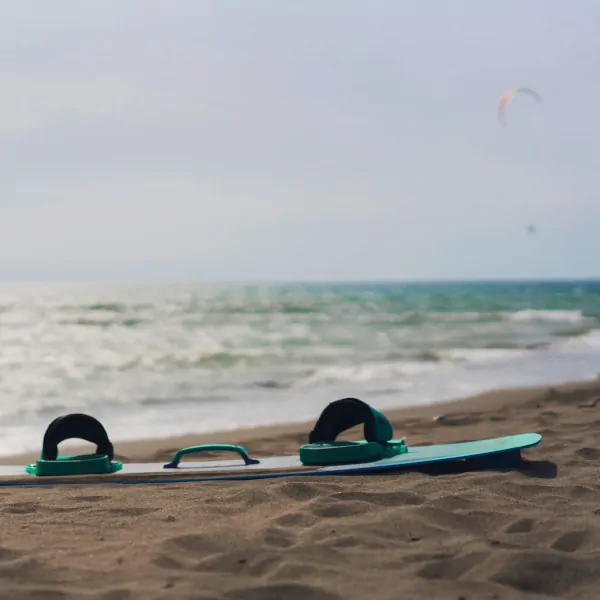 we also offer lessons and equipment rental for a wide array of water sports. We give surfing classes, as well as rent paddleboards and surfboards.

Dakhla – the remote pearl located in the south of Morocco, in Western Sahara. Between desert and
ocean, this small part of paradise, offers a great opportunity to relax, and indulge in all kinds of water
sports. Blessed by constant winds and with a 25-degree sun all year round, Dakhla offers optimal
conditions for all levels.
The warm wind blows North – North East generally between 15 and 40 knots daily. As one of the
world's largest flat water lagoons, Dakhla lagoon make learning easier, so you can progress faster!
Dakhla Forcast
Windy days in a year
355Days
sunny days in a year
335Days
Frequently Asked Questions
How do kite classes work?
In principle, a package of 6 hours is split in 2 hours per day, but we could change them depending on the weather conditions and students' abilities. Sometimes there are students who want to do a little more and do 3-hour class. Another more intense option is to do two 2-hour sessions in a day with a break between them. Everything as long as the weather conditions allow it.
Private Lesson (1 Person)
Private kitesurf class is where you'll learn in the fastest and most safe way, because you'll have 100% of the instructors' attention. The instructor will be exclusively with you and will fully adapt to your needs and your level. Your kitesurfing class includes a helmet radio communication system, in which you can talk to your kitesurfing instructor at all times, even if you are in the water. It is the most recommended option if you want to learn kitesurfing as quickly as possible or if you come alone.
Semi-Private Lesson (2 Persons)
Semi-private kitesurfing class is for 2 people, each student will have equipment for themselves, which is the maximum number of kites that an instructor can control simultaneously. In the semi-private class your instructor will be teaching two people at the same time, so both of you must have a similar level. In this class you progress quite quickly but it is not as efficient as a private lesson. It is the most recommended option if two people come together, you want to progress quickly and have a cheaper class than the private one.
Group Lesson (3-4 People)
In a class of 3 people, the price is much cheaper, it is usually approximately 45% cheaper than the private class, but the learning speed also decreases, because we have to share two kites between the three. If you come with your group of friends and you have enough time to attend about 8 hours of class, then this type of class is recommended. If you don't want to share a kite and learn faster, you will have to choose two different instructors, or book one class after the other.
4 people is the maximum that an instructor is authorized to teach at the same time, and there will be two groups of 2 students sharing one kite for each group. This class has a much cheaper price but it must be taken into account that we will only use the kitesurfing equipment half the time of the class.
If you're more than 4 people or want to do a team building event, then contact us and we'll be happy to work out all the logistics.
Who can kitesurf?
Everyone who know how to swim. Children as young as 5 can start kiting as long as they have the minimum weight required (at least 35kg). Older people with good coordination and balance, sufficient core strength and lower body stamina, can also practice kitesurfing.
Money
The local currency is the dirham DH.
We don't advise you to obtain DH before you arrive – Morocco is a closed banking system and any DH exchanged outside of the country are subject to a heavy rate.
There are plenty of ATMs down town.
Cash is king in Dakhla, only a few higher end restaurants and hotels will have a card machine.
Check with your bank before you come – Morocco is in Africa and some bancks (including Paypal) will automatically add extra security.
Maximum daily withdrawals are approximately €400 or 4,000DH. Each time you withdraw your bank charges a fixed fee + an exchange rate commission.
Euros are easily exchangeable here and might be a cheaper alternative to making multiple cash withdrawals.
Can I buy a card for the internet there?
You can get a local SIM card with mobile internet in Dakhla town, a SIM card is around 5 Euros and 1GB of data around 1 Euro.